Verify and document your project conditions throughout the construction process.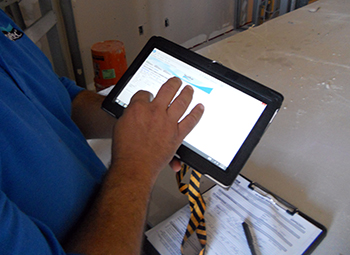 Manage your project instead of problems. SkyeTec's Moisture Management and Quality Control (M2QC) program is a combination of detailed quality control and moisture intrusion inspections, performed at critical points during construction.  M2QC identifies issues before they turn into costly problems. Early detection of quality or moisture issues provides the contractor and their trades the ability to make corrections during construction, helping to maintain the construction schedule and keep correction costs down.
SkyeTec provides real-time field verification that delivers concise reporting and visual support of all findings.  These findings are clearly identified, trade specific, and can be automatically routed to the appropriate trade via our online tool, the Commercial Trade Report.
M2QC Program Benefits Include:
Decreased chance for issues later in the building's life cycle
Lower long-term maintenance costs
Increased property value
Improved customer satisfaction
Reduced risk and liability for moisture and indoor air quality concerns
Clear overview of trade performance and issue resolution
Enhanced control over corrections and repairs
24/7 access to inspection findings and reports
Implement SkyeTec's M2QC program for your apartment, student housing, condo, or senior living project and enjoy the benefits! For more information call us at 1.866.SKYETEC (1.866.759.3832) or fill out the contact form on the right side of your screen.